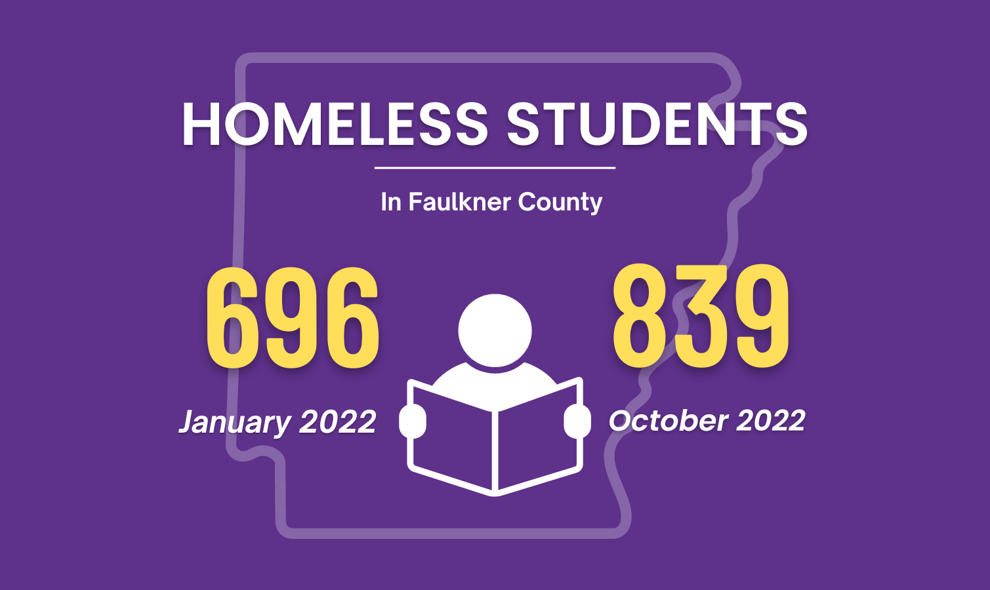 The homeless population in Central Arkansas has increased since the beginning of the year and as winter approaches, several families are without shelter in Faulkner County.
According to the Arkansas Department of Education Data Center, there were 839 homeless students in Faulkner County as of Oct. 1. 
Faulkner County had the fourth-highest homeless student population in the state, just behind Arkansas' three largest counties by population: Pulaski, Benton and Washington counties. In January, this number was 696. 
While this number is high, it doesn't account for the county's homeless individuals who aren't of school age. The United Way of Central Arkansas and the Toad Suck Homeless Coalition gathered a 90-day snapshot of data from Conway Ministry Center and Bethlehem House, which counted 356 homeless individuals in the community in just 90 days. 
The data from the 90-day snapshot reported that, of the 356 individuals, only 20 were considered "chronically homeless," which means they have been homeless for over a year. The data also provided evidence that more family units are homeless than before, with 27 families with 51 children reported.
Laura King, assistant director of the United Way of Central Arkansas and chair of the Toad Suck Homeless Coalition, said the data from the Department of Education and the local agencies show a significant increase in the number of homeless people in the community.
"This snapshot with the public school data shows us that we are up 16% from January 2022 and we don't have all agencies reporting," King said. 
Likewise, the Community Action Plan for Central Arkansas has seen an uptick in community members in need of their services.
"We are a federally, state, local and privately funded organization that serves Faulkner, Cleburne and White counties with over 20 different programs," CAPCA Community Programs manager Lacey Strom said. "Some of these programs are Rapid Rehousing, Homelessness Prevention, Project Homeless Connect, [Low Income Home Energy Assistance Program], Commodities, Head Start/Early Head Start and much more … We have seen a considerable increase in homeless and non-homeless who need our services."
The reasoning for the influx of unsheltered people boils down to two key factors: increased cost of living and COVID-19. 
In the past year, the cost of living has risen to record numbers, making everyday essentials such as gas, groceries and rent much more difficult for people who are already economically disadvantaged.
"When you live paycheck to paycheck, just missing one can put you in a scary situation," Strom said.
The COVID-19 pandemic aided in job loss for people all across the country and also raised inflation rates in several aspects. People who never struggled financially before the pandemic have fallen victim to the economic effects of COVID-19. 
"There really isn't any area of our lives that hasn't been impacted by inflation caused by the COVID-19 pandemic … One missed day of work, one sick kid, one car breakdown can easily put people that are financially struggling on a path to homelessness," King said.
While the entire country has seen the effects of the pandemic raise homelessness rates, in Central Arkansas, the issue is also accredited to overall population growth. Conway in particular is a growing city, bringing in more people each year. Conway's growth, however, is not helping the homeless issue at hand.
"Conway is growing faster than what housing is keeping up. We have three great colleges and people flocking to the area, which is amazing in so many ways, but it strains housing availability and causes an increase in housing cost. Oftentimes there is funding through nonprofits to help rehouse the homeless, but we simply can't find enough affordable housing units to place them in," King said. 
As the homeless population is rising, the temperatures are falling, which puts the homeless people in the community at even higher risk. Below-freezing temperatures and inclement weather like rain, sleet and snow present the danger of hypothermia to those without shelter. 
The Toad Suck Homeless Coalition has a plan for the winter months to try and shelter as many homeless people as possible when inclement weather conditions arise and are hopeful this will help the homeless in the area until Conway's first emergency homeless shelter opens next year. 
"We just need to make it through this winter without losing any of our citizens to the elements," King said.
For those who feel inclined to help, the Conway Police Department advises to be cautious and alert the department if concerned with the safety of an individual. 
"Always be cautious when approaching an individual that you are not familiar with. If you are concerned for their safety, please contact the Conway Police Department. You may also refer them to local organizations such as CAPCA or the Conway Ministry Center, which aid individuals in need. If it is 'after hours' for these organizations, you may contact our Community Crisis Response Team, and they will respond accordingly," Public Information Officer Lacey Kanipe said. 
Several organizations in Conway like CAPCA and the United Way of Central Arkansas welcome volunteers and donations as a safe way to help provide for the area's homeless population.
"We encourage volunteering at our Project Homeless Connect events; this is a great way to give back and get to know people and what they are going through. We will also need a large volunteer base once the homeless shelter opens to ensure our guests feel welcome, safe and cared for by their community and our hardworking staff. We understand there is a stigma about giving homeless on the street money. Still, here at CAPCA, we have strict guidelines to ensure the homeless we serve are indeed homeless," Strom said. 
Funds can also be donated to the Winter Sheltering Program through the United Way of Central Arkansas, where 100% of the proceeds will go toward sheltering homeless people in the community overnight from Dec. 12, 20222, through March 1, 2023. 
More information on how to help the homeless in the city of Conway and Faulkner County can be found by contacting CAPCA or the United Way of Central Arkansas.