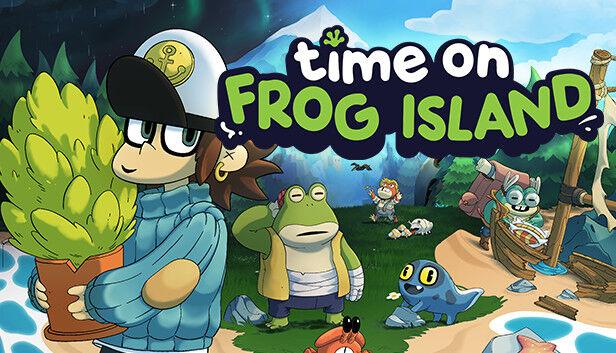 On July 12, Merge Games and Nintendo released a new cozy game, "Time on Frog Island," for Nintendo Switch users. 
A cozy game has a much more relaxed gameplay style than games like first-person shooters or even role-playing games (RPG), and the graphics make you want to curl up on the couch with a nice iced chai latte. 
It has become apparent within the gaming community over the past few years that more mindful games are becoming increasingly popular. Cozy games, like Stardew Valley or Animal Crossing: New Horizons, bring on relaxation and even therapeutic game play. 
Described as an adventure platform game with brain-tickling puzzles, "Time on Frog Island" follows the nostalgic storyline of a shipwrecked traveler who must befriend the frogs surrounding them. 
Nintendo.com describes the opening as, "A terrible storm ravages the seas around you, casting your mighty vessel into the perilous rocks of a nearby island. You awake to find your ship in pieces, shipwrecked on a strange island filled with… frogs?"
With no map, no written dialog, and no rush to get off the island, you have to work with the frogs to get things you may need to fix your crashed boat. 
This cozy platformer is all about mindfulness. The player is encouraged to explore the island at their own pace. 
Nintendo exclaims to "make your own path in this island sandbox, you never know what will be around the next corner."
Getting to know each friendly, and sometimes grumpy, character throughout the game, every frog is completely different from the last. 
You can even find hidden treasures along the way as you explore the island and do favors for everyone around you. 
As the shipwrecked traveler with a deep backstory told through drawings discovered through the game process, you can do as much or as little as you want.
As night falls on the island each day, you may be encouraged to go to sleep next to the freshly built fire, but you don't have to and there is no penalty either way. 
You can focus on exploring the island, rebuilding your ship, socializing with the frogs, or interacting with each and every new element you come across such as bee hives, hammers, beer mugs and much more. 
Differing heavily from other cozy games, there is no written dialog in the gameplay. 
Socializing with the many frogs on the island is done through riddles using only pictures, usually followed by exclamation or question marks to indicate a need or a request. 
Throughout the game, you can discover new items by using the fishing and farming tools found around Frog Island. With time and many answered requests, you can even create "simple brews that will change how you traverse the island," according to Nintendo. The frogs can help to achieve your goals of learning and using these skills. 
For cozy games that may fight the heat of the summer, this one will never leave you with nothing to do. 
Going through "Time on Frog Island," Nintendo said, "each object you pick up could end up being the key to something bigger." 
The puzzles are challenging enough to keep the player interested but not so easy that the game flies by. 
Harboring more mindfulness in video games is what this storyline is after, and it's the perfect game to curl up on the couch with and avoid the heat. 
"Time on Frog Island" is now available on Nintendo Switch originally for $24.99, but is currently 20% off for digital download for a limited time only.