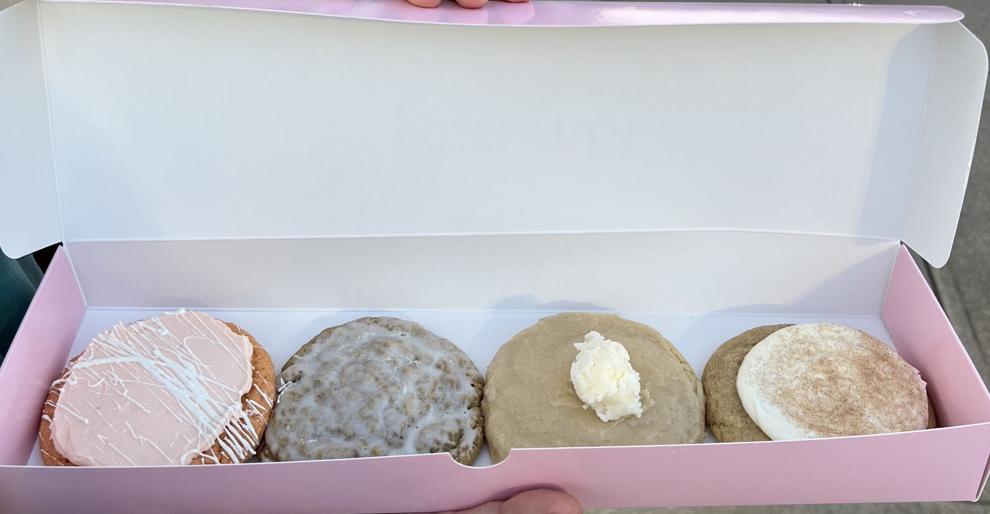 As of May 27, Conway is home to a new Crumbl Cookies location. Prior to the new bakery, Conway residents had to travel nearly 50 miles to Benton for the one-of-a-kind cookie flavors. 
Only having had Crumbl two times before because of how far the location was, I was eager to only travel 12 minutes away for cookies, instead of 42. 
During the week of June 6-11, the specialty flavors included lemon blackberry (a newly introduced flavor), snickerdoodle cupcake, iced oatmeal, buttermilk pancake and orange creamsicle. 
I decided to try all of them but the lemon blackberry one since I'm not a fan of lemon-flavored desserts. 
First up, I tasted the snickerdoodle cupcake flavor, which is served warm. The cream cheese icing was super smooth and went perfectly with the cinnamon sugar cookie. I love all things cream cheese, so I knew I would start strong with this one. The hint of cinnamon sugar on top was probably the best part. 
Next up was the buttermilk pancake cookie which is also served warm. When I first read the description for it, I noticed that it said it was topped with syrup and buttercream. This confused me when seeing the cookie because there were no obvious signs of syrup unless it was mixed into the frosting. 
Speaking of, the consistency of this cookie's frosting was thicker and definitely not a favorite. I've tried Crumbl's waffle cookie before and preferred that one because it actually came with syrup you could pour over top. Overall, the cookie was tasteful but not special and didn't scream "pancake with syrup."
The iced oatmeal cookie was served warm, as I expected it to be. I had no high expectations for this one and I was right. The taste took me back to my childhood but the consistency was chewier than I would've liked. I definitely wouldn't buy it again. 
Lastly, I had a bite of the chilled orange creamsicle cookie. The photos online make the cookies out to be more orange than they are in person, but they do look the most aesthetically pleasing of the four cookies. 
Upon smelling the cookie, I realized how legit they seemed. Despite loving the snickerdoodle cookie as much as I did, the refreshing frosting of the creamsicle cookie had to be my favorite frosting of the ones I tried this go around. This cookie tastes the most identical to what it's imitating. It certainly surprised me, considering this was the cookie that intimidated me the most. 
Overall, the combination of flavors was pretty odd. Iced oatmeal and orange creamsicle felt like throwbacks to childhood and warm memories, but the other two, not so much. My order of liking goes as such: snickerdoodle, creamsicle, pancake and iced oatmeal. 
I've been excited to try Crumbl Cookies flavors many times before, but this week's flavors didn't seem to pique my interest at first. 
My first impression of the cookies in the long pink box was that most of the cookies looked beige and unexciting. I am glad I gave them a chance, though. 
Each week, the menu rotates with four to five different specialty flavors. If these don't sound appealing, they do keep their milk chocolate chip cookies on the menu at all times. Hopefully, everyone can find a new favorite cookie.
For the four-pack of cookies I purchased, the total with tax and before tip came out to $15.01, which comes out to about $3.75 a cookie. Considering these cookies last me for at least a week, I'd say this is a decent price. 
Stop by and try new cookie flavors each week at the Crumbl Cookies on 1100 S Amity Rd Suite F.